| | |
| --- | --- |
| Along Southern Lines Part 6 (72-mins) | Price £19.75 |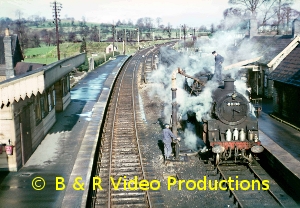 **RELEASED OCTOBER 2013**
This volume features steam traction in the Somerset and Dorset areas of the West Country and in particular the famous Somerset & Dorset Joint Railway from Bath to Bournemouth with both normal service and special trains.
We start with a glimpse of the ex-SR West of England main line before witnessing Bulleid Pacifics and BR Standards at Bournemouth Central and Weymouth. This is followed by a trip along the line visiting locations such as Radipole Halt, Upwey Wishing Well Halt, Bincombe Tunnel and Dorchester South. Spot the ex-LMS Black 5 interloper!
Next, we visit the ex-GWR Bridport branch from Maiden Newton with a number of specials along the branch featuring Ivatt 2-6-2 tanks using both black & white and colour footage. By contrast, there is a DMU trip along the line shortly before it closed in 1975.
In earlier times, we visit the Somerset & Dorset line with black & white scenes of Bath Green Park shed including ex-SD&JR 2-8-0 7Fs. Back to colour and footage of Bath Green Park station and views inside its famous train shed. We now travel along the line through Devonshire and Combe Down tunnels, Midford, Wellow and Radstock to see coal trains hauled by 7F 2-8-0s. On past Chilcompton, we climb to Masbury Summit, Shepton Mallet and Evercreech Junction. There are scenes of the line to Glastonbury, at Burnham-on-Sea, and Highbridge and Bridgwater.
Travelling south from Evercreech, we pass through Wincanton and arrive at Templecombe for the junction with the ex-SR main line. A busy scene here, with a variety of trains and engines in and around the station, shed and junction. Even 92220 "Evening Star" is on a normal service train! We continue south to Stalbridge, Sturminster, Shillingstone, Blandford Forum and Bailey Gate joining the main line at Broadstone Jct. before continuing to Poole and arriving at Bournemouth West.
Finally, there are views of the LCGB S & D farewell special with two unrebuilt Bulleids, some final scenes from the S&DJR line and we close with a classic S&DJR 7F under the train shed at Bath Green Park station.
Steam traction featured includes many Standards, Bulleid Pacifics, 4Fs, 7Fs, Black 5s, 9Fs, and Panniers plus Collett 0-6-0s on the Glastonbury line including the now preserved 3205.
All the archive film used is mainly in colour but some black & white footage is used. An authentic soundtrack has been added along with an extensively researched commentary.
Cover Photo:- Jim Clemens. 80138 at Evercreech Junction, March 1966.
Click here to order this Volume 181 and other videos online
(By clicking here you are entering Wolverton Rail Videos web site with over 4000 transport videos & DVDs available
'Run by Enthusiasts for Enthusiasts since 1987′.
Please note you will be buying from Wolverton Rail and not B & R Video Productions)