| | |
| --- | --- |
| Turkish Delight Part 1 (90-mins) | Price £19.75 |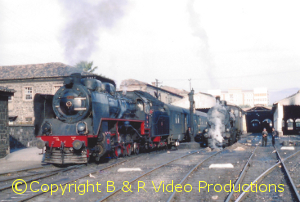 **RELEASED LATE JULY 2014**
Turkey lies at the further eastern extremity of Europe with one seventh of its territory in Europe and the remainder in Asia, separated by the Bosphorous waterway. While the former is largely flat, the latter is mountainous with railways facing severe gradients climbing into the rugged interior from the coastal plains of the Mediterranean in the south and the Black Sea in the north.
The first railway was started in 1856 and construction continued until 1971 when the final section from Lake Van to the Iranian border was finished. But this still resulted in a sparse network of lines for such a large country.
Locomotives were of necessity, powerful and sturdy with mainly British, German and American builders. Passenger working were sparse with only one or two trains a day for most lines and often mixed traffic. Freight workings predominated with many trains double headed or with banking engines on the steeper line sections. Most lines were standard gauge with a few narrow gauge lines. Dieselisation was completed first in the West, gradually moving eastwards. Steam locomotive building ended in 1961. In the West most locomotives were coal fired due an abundance of coal mines; in the East most were oil-fired. However by the late 1980s all had been withdrawn.
Our first scenes concentrate on the western part of Asiatic Turkey with scenes from Izmir with its intensive suburban services and longer distance trains to the interior plus around the Black Sea port of Zonguldak with its extensive coal mines and associated workings.
Later scenes move further east via the Black Sea coast to Sivas and the Euphrates Gorge near Erzurum and returning south via Konya.
This all colour film has been brought to life with superb sound and commentary.
Cover Photo:- Cover photo: Colin White. 57018 on 9:35 to Denizli at Alsancak (44071 pilot) 13/12/75.
Click here to order this Volume 186 and other videos online
(By clicking here you are entering Wolverton Rail Videos web site with over 4000 transport videos & DVDs available
'Run by Enthusiasts for Enthusiasts since 1987′.
Please note you will be buying from Wolverton Rail and not B & R Video Productions)