| | |
| --- | --- |
| Scandinavian Railway Memories (67-mins) | Price £19.75 |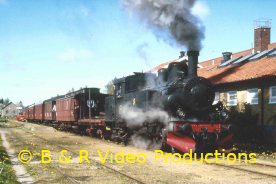 **RELEASED December 2019**
As well as satisfying their passion for steam in the British Isles, enthusiasts sought it out in other ways, with many making their way into Europe in search of steam.
In the summer of 1962, the late Brian Lockey visited Sweden and Finland on the Railway Correspondence & Travel Society (RCTS) rail tour of Scandinavia. Then in the autumn of 1970 Brian visited Denmark, this time with the Railway Enthusiasts Club (REC). Brian's films make up the majority of this volume of Scandinavian Railway Memories.
The Swedish visit includes wooden-bodied jackshaft electric D Class 1C1 locomotives, a giant 0-10-0 originally from the Kiruna far north iron ore line, the Tomteboda Railway Museum plus Sweden's largest railway exhibition of 1962. Visits are also made to Falun, Hagalund shed, Ludvika, and Kristianstad shed. Sweden's largest private railway is seen at Eskilstuna, the TJOJ iron-ore line, where the Traffic Manager and Chief Engineer took the party around. The last steamship built in Scandinavia (and now-preserved SS "Bore") takes the tour from Stockholm onwards to Turku.
There is excellent coverage of Finnish steam, but starts with an Hr12 (now Dr12) Co-Co diesel. Helsinki shed was visited and on the adjacent main line, there is continuous steam activity coming up the hill out of the City. Steam abounds including 0-6-0T, 0-6-2T, 4-6-0, 4-6-2, 2-8-0, 2-8-2, 2-8-2T, 0-10-0T and 2-10-0 classes. The Tr1 2-8-2s and Hr1 4-6-2s built up to 1957 are real beauties and include bar frames plus interchangeable boilers. Wood-burners are also seen, complete with spark-arresting chimneys.
The visit to Denmark includes one of the 'P' class Atlantics, single and double chimney 'E' class Pacifics, a visit to Fredericia shed, a trip on the World's oldest steam paddle steamer, and haulage of standard-gauge stock by a narrow-gauge locomotive. Modem traction includes 'Lyntog' inter-city units and East German 175s on the Berlin service.
Trams and trolleybuses are not forgotten. Some Scandinavian steam locomotives found a later home in the UK and visits are made to see them, including filming for the James Bond film 'Octopussy'. Finally there are some 'Railway Roundabout" type 16mm offcuts and unused film of Finnish steam purchased from Pat Whitehouse by Jim Clemens.
Cover Photo:- SJ 2-6-4T No.1393 (built 1918) at Vitaby, Sweden.
.
Click here to order this volume and other videos online
(By clicking here you are entering Wolverton Rail Videos web site with over 4000 transport videos & DVDs available
'Run by Enthusiasts for Enthusiasts since 1987′.
Please note you will be buying from Wolverton Rail and not B & R Video Productions)