| | |
| --- | --- |
| Austrian Steam Spectacular (60-mins) | Price £19.75 |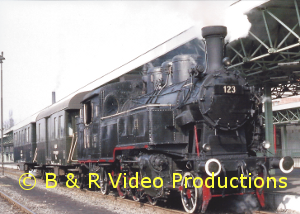 **RELEASED October 2015**
Following the demise of steam on BR in 1968, enthusiasts sought out steam in other ways and many visited Austria where their passion could be combined with Alpine scenery. Even as late as 1972, there were still hundreds of steam locomotives in OBB (Austrian Federal Railways) stock.
Steam was concentrated in the east, including Vienna, Graz, and Linz. Numerically the largest were the German 'Kreigslok' (War Engine) Class 52 2-10-0s (the equivalent to the British WD classes) with their 'Kabinetender' (Cabin Tender) Other designs seen include the Class 50 (predecessor of Class 52) and the Class 152 (bar-framed Class 52).
We see steam on passenger services around Vienna with Class 77 4-6-2Ts, the big Class 78 4-6-4Ts, and the rugged Class 93 2-8-2Ts.
Unfamiliar to British rail fans were the lightweight 2-4-2Ts or 'Dampftriebwagens' (Steam Railcars) which included an integral guard's and baggage compartment.
Austria was birthplace of the Giesel Ejector and 450 had been fitted to OBB classes by 1961. A highlight was the Erzberg rack railway. This spectacular line, seen in summer and winter, was home to massive 0-12-0 and 2-12-2 locomotives working ore trains.
The GKB system (Graz Koflacher Eisenbahn) included 2 cylinder compound 2-8-0s and a 103 years-old 0-6-0.
Austria had borders with Eastern Bloc countries and we see locomotives from Czechoslovakia, Yugoslavia and Hungary plus an inter-city DMU from East Germany.
It was refreshing to see some Austrian steam narrow-gauge systems working for a living and not just tourist lines. We visit the Steyr Valley Railway from Garsten with its 0-6-2Ts, and the lines around Gmund with 0-8-0 articulated-tender engines and transporter wagons.
There were also old and interesting electric locomotives including the Mariazellbahn Railway whose locomotives dated from 1911, and the impressive 'Crocodiles' with their long noses reminiscent of the snout of a crocodile.
Filmed entirely in colour over the ten years or so from 1963, a detailed commentary plus sound track complements this nostalgic look at the railways of Austria.
Cover photo:- Colin White
GySEV 2-6-2T No.123 2-6-2T on the 12:18 to Fertoboz at Sopron, 1970s.
Click here to order this volume and other videos online
(By clicking here you are entering Wolverton Rail Videos web site with over 4000 transport videos & DVDs available
'Run by Enthusiasts for Enthusiasts since 1987′.
Please note you will be buying from Wolverton Rail and not B & R Video Productions)