| | |
| --- | --- |
| Remembering the Southern Part 3 (65-mins) | Price £19.75 |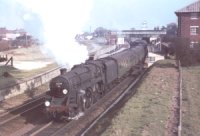 Jim Clemens Collection No.28. Our third volume of Southern Steam memories from the JIM CLEMENS archive film collection, this time featuring the South Western Division in Hampshire and Dorset in 1966 and 1967.
After a brief glimpse of Waterloo station exterior, there is coverage of steam from SOUTHAMPTON to BOURNEMOUTH and WEYMOUTH with Bulleid pacifics. Next we feature four rail tours with a variety of motive power including a Stanier Black 5, USA tanks to FAWLEY, a Maunsell Mogul to GOSPORT, visiting A4 pacifics 60024, "Kingfisher" and the newly preserved 4498 "Sir Nigel Gresley" both to Weymouth and an Ivatt 2MT along the Weymouth Quay Tramway. Normal service trains see steam haulage along the main line through the New Forest area with Bulleid pacifics, both rebuilt and unrebuilt plus BR Standard classes. There is also extensive coverage of the LYMINGTON Branch to the end of steam in 1967, including views of LYMINGTON PIER station from the ferry! Plenty of action at Bournemouth Central with its shed visible from the main down platform, well filmed and with an abundance of detail. Finally, brief visits to BROADSTONE, BOURNEMOUTH WEST with the Pines Express, SWANAGE with a Special, and a last look at main line steam.
Cover photo: Jim Clemens, 73084 leaves Christchurch.
Click Here for Vol.105 – Remembering the Southern Part 1
Click Here for Vol.137 – Remembering the Southern Part 2
Click here to order this and other videos online
(By clicking here you are entering Wolverton Rail Videos web site with over 4000 transport videos & DVDs available
'Run by Enthusiasts for Enthusiasts since 1987′.
Please note you will be buying from Wolverton Rail and not B & R Video Productions)