| | |
| --- | --- |
| Gloucestershire Byways (60-mins) | Price £19.75 |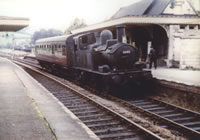 Jim Clemens Collection No.18. The railways around Gloucestershire consisted of main and branch lines and most are covered in this video film.
The main GWR line ran down the Stroud Valley to CHELTENHAM and via GLOUCESTER to South Wales. The Midland line ran a line north to south via Cheltenham to BRISTOL. Both saw heavy traffic in the days of steam, expresses and freight.
The branch lines, all long gone now, were delightful rural byways and the KEMBLE to CIRENCESTER AND TETBURY, BERKLEY ROAD to SHARPNESS and COALEY to DURSLEY lines are covered in detail. There are main line auto services to CHALFORD and the secondary line from KINGHAM to CHELTENHAM is illustrated here. Finally BRISTOL is reached, which was in Gloucestershire at the time of filming, all between 1960 and 1967.
Motive power includes Castles, Jubilees, Black 5s, Standards, Pannier and Prairie, freight types from 4F to 8F and the renowned auto tanks of 1400 and 6400 types.
Click here to order this and other videos online
(By clicking here you are entering Wolverton Rail Videos web site with over 4000 transport videos & DVDs available
'Run by Enthusiasts for Enthusiasts since 1987′.
Please note you will be buying from Wolverton Rail and not B & R Video Productions)