| | |
| --- | --- |
| Steam Routes Manchester to Crewe (67-mins) | Price £19.75 |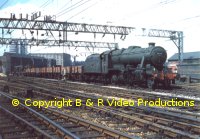 A video featuring the line between MANCHESTER and CREWE. Particular emphasis is on the two places, one a city and the other a railway town. Filmed in the 1960s, steam traction predominates.
MANCHESTER VICTORIA and the nearby MANCHESTER EXCHANGE stations were busy with passenger, freight and parcels traffic. It was at the foot of MILES PLATTING incline where banking often took place. At the summit was NEWTON HEATH shed and a visit is made there.
The line from MANCHESTER PICCADILLY was electrified from 1960 but steam power existed here alongside the new AC electric locomotives. At the northern end, STOCKPORT kept steam until 1968 and as well as the station, EDGELEY shed is visited.
We then travel southwards through CHEADLE HULME, WILMSLOW, GOSTREY and on to CREWE where a wide range of motive power is seen from 1962 to 1968; Princess Coronations, Jubilees, Royal Scots, Crabs and Jinties along with BR Standards, Stanier Black 5s and Stanier 8Fs.
There is much nostalgic archive material used in this video of a past history when steam power could still be seen regularly on British Railways.
Cover photo: Keith Pirt, 8F 48765 at Manchester Piccadilly, April 1965.
Click here to order this and other videos online
(By clicking here you are entering Wolverton Rail Videos web site with over 4000 transport videos & DVDs available
'Run by Enthusiasts for Enthusiasts since 1987′.
Please note you will be buying from Wolverton Rail and not B & R Video Productions)