| | |
| --- | --- |
| Steam Routes Lancaster to Shap (78-mins) | Price £19.75 |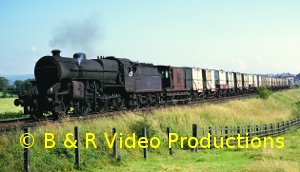 **NOW IN STOCK MAY 2012**
"Steam Routes" is a series of films featuring steam traction along specific routes rather than areas and mostly using previously unseen archive film from the 1960s. Here our third instalment features the West Coast Main Line starting at Lancaster for the 40 mile journey to Shap Summit.
At Lancaster Castle station (WCML) there are many scenes of steam activity and over at Lancaster Green Ayre we also see 3-car EMUs on the ex-MR Heysham line electric services. We pay a short visit to the Morecambe to Heysham line with Black 5s on service and special trains plus Lostock Hall breakdown train attending a derailment.
Back to the WCML with footage at Hest Bank and its troughs. Many steam hauled trains pass with some picking up water. Overflowing tenders plus a line side fire!
We make an extensive visit to Carnforth and its shed with operations there mainly in 1967 and 1968 when Stanier Black 5s and BR Standards were being serviced in quantity, including the last few Britannias and 9Fs. There are many scenes and even include the odd diesel: a Clayton Class 17, a blue Class 40 and Metrovick Co-Bo D5714. Scenes at the station include Bulleid 35012 "United States Lines" on a special and Britannia 70013 "Oliver Cromwell" on a service train. Plus a brief glimpse of preserved ex-LNER B1 61306 in a siding!
We continue through Oxenholme to climb to Grayrigg, Low Fell and Dillicar. A view of the troughs from the 4ft!. Tebay was the shed for the bankers over Shap and there is much footage of the variety of passing trains, including doubleheaders and with assisting banking engines, before we finally arrive at Shap Summit. The occasional Princess Coronation (both red and green), Royal Scot and Jubilee are also seen but the climb on the 1-in-75 incline is very well covered with this new archive footage.
Cover Photo:- Keith Pirt/Courtesy Booklaw Publications, 'Crab' 2-6-0 42894 on a down freight near Lancaster, July 1962.
Click here to order this and other videos online
(By clicking here you are entering Wolverton Rail Videos web site with over 4000 transport videos & DVDs available
'Run by Enthusiasts for Enthusiasts since 1987′.
Please note you will be buying from Wolverton Rail and not B & R Video Productions)