| | |
| --- | --- |
| Steam in The Valleys (South Wales Industrial) Part 1 (60-mins) | Price £19.75 |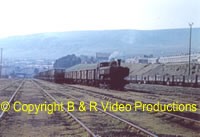 Some steam lived on in the Welsh Valleys at least ten years after its demise on British Railways.
Starting with some Western Region steam in South Wales and a visit to the scrapyards of Cashmores and Woodhams, there follows a number of visits to industrial steam sites, mainly collieries. These are BRYNLLIW, GRAIG MERTHYR, MAESTEG, PARK TREORCHY, WERN TAWR and MOUNTAIN ASH. A visit is also made to the steel works at LLANELLY.
The industrial locations ranged from the scenic to typical industrial. Hard working engines are seen, some of them now preserved today, including ex-GWR 7754 and 9642.
Cover Photo:- Colin White, 9792 at Maerdy Colliery, 1970.
Click Here for Vol.147 – Steam in The Valleys Part 2
Click here to order this and other videos online
(By clicking here you are entering Wolverton Rail Videos web site with over 4000 transport videos & DVDs available
'Run by Enthusiasts for Enthusiasts since 1987′.
Please note you will be buying from Wolverton Rail and not B & R Video Productions)