| | |
| --- | --- |
| Industrial Steam Part 2 (79-mins) | Price £19.75 |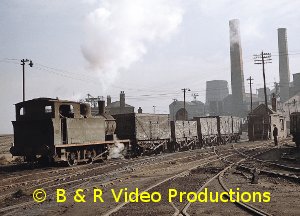 **NOW IN STOCK JANUARY 2012**
With the plethora of main line and branch line steam film footage from the 1960s, the co-existing but equally fascinating industrial steam scene in Britain is often neglected. It is easy to forget that it continued until around 1980. Although we have featured some scenes of industrial steam in other volumes, our last dedicated volume to Industrial Steam was way back in 1997 with our Volume 52! Here we have further look at industrial steam at work in England and Scotland from 1960 to 1980, this time mostly featuring the larger locomotives which worked at collieries and iron stone mines. These locomotives were usually built by private builders, although some ex-BR tank classes were used. The North East and Midland areas are well covered and there are many scenes of long gone engines working in an industrial environment now often vanished. Many of these engines survived into the preservation era and were eventually saved from oblivion. It is only fitting that we conclude our video with 2011 views of a selection of these industrial locomotives at work on preserved lines such as the Tanfield, Foxfield and Blaenavon railways.
All the footage is in colour and the film has an extensively researched commentary with an authentic sound track.
Keith Pirt/Courtesy Booklaw Publications, A Hawthorn-Leslie tank shunting at Nunnery Colliery, Sheffield, 1956.
Click here to order this and other videos online
(By clicking here you are entering Wolverton Rail Videos web site with over 4000 transport videos & DVDs available
'Run by Enthusiasts for Enthusiasts since 1987′.
Please note you will be buying from Wolverton Rail and not B & R Video Productions)