| | |
| --- | --- |
| Passion for Steam Part 2 (105-mins) | Price £19.75 |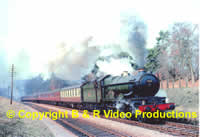 EXTRA LENGTH 105-minutes
From The Brian Rogers Collection: A further look at British Railways steam traction from 1960 to 1967 filmed by life long enthusiast Dr. Brian Rogers of Worcester.
Over half of the material was filmed on the Western Region where he lived. Wonderful scenes around WORCESTER with Castles, Halls, Granges and many freight types. The Midland route from GLOUCESTER to the LICKEY incline includes a footplate ride on a Bromsgrove banking engine. Visits to OXFORD, DIDCOT and HATTON. A drivers course on the BROMYARD branch. The Golden Valley line through STROUD and the last day on the KEMBLE branch. On to BRISTOL and down the Somerset & Dorset to BOURNEMOUTH WEST.
The Southern Region shows plenty of Bulleid Pacifics at NEW MALDEN, CLAPHAM JUNCTION and in the New Forest. A visit to the ISLE OF WIGHT for 02 tanks in 1965. Southern H Class tanks at TUNBRIDGE WELLS gives more variety. View the long closed lines to ILFRACOMBE and TORRINGTON.The Midland Region at Water Orton and GRAYRIGG. Into Scotland from CARLISLE and a special on the WAVERLEY Route, STIRLING, GLASGOW CENTRAL and the Forth Bridge showing the old car ferry.
Back to England for King Class 4-6-0s at BIRMINGHAM SNOW HILL and a little more steam around WORCESTER.
An excellent colour film with an authentic sound track and an informative commentary.
Cover photo:- KEITH PIRT/Courtesy Booklaw Publications, 7031 "Cromwell Castle" on Chipping Campden Bank, 1963
Click Here for Vol.117 – Passion for Steam Part 1
Click here to order this and other videos online
(By clicking here you are entering Wolverton Rail Videos web site with over 4000 transport videos & DVDs available
'Run by Enthusiasts for Enthusiasts since 1987′.
Please note you will be buying from Wolverton Rail and not B & R Video Productions)