| | |
| --- | --- |
| Steam in the Capital (60-mins) | Price £19.75 |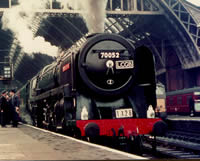 A nostalgic look back to London's termini for the Big Four in the 1960′s and on lines radiating from them. We begin at Euston, 70032 departs on the "Comet" and first generation diesels 10201/2 on the "Royal Scot". At Marylebone, we go north to Chorley Wood with 2-6-4 tanks, Rickmansworth for a B1. Growler No.11 of London Transport leads us to Neasden and the work of LT's pannier tanks at Croxley and Farringdon. A Britannia and Patriot are at St.Pancras with Scot and Jubilee. Next door was King's Cross and the East Coast main line to Hatfield. This section is full of A1, A2, A3 and A4 pacifics, V2, WD and B1 all appear in the early 1960′s. Next, the Great Eastern from Liverpool Street, through North London and east to Colchester and Ipswich, Britannia, J15 and even a D16 4-4-0. Fenchurch Street to Shoeburyness with 2-6-4 tanks. Over to Paddington and the Western main line to Reading via the Marlow branch, Castles, Halls and auto-tanks. At Reading we meet the Southern Railway. Return to Waterloo via Feltham for S15 and Q1, Clapham for M7, ex-GWR pannier tanks, W Class and Fowler tank. A Schools and Lord Nelson appear before nostalgic views of Beattie well tanks and an H16. See what a 1960′s railway enthusiast and all the cockney sparrows witnessed on a visit to England's Capital City.
Click here to order this and other videos online
(By clicking here you are entering Wolverton Rail Videos web site with over 4000 transport videos & DVDs available
'Run by Enthusiasts for Enthusiasts since 1987′.
Please note you will be buying from Wolverton Rail and not B & R Video Productions)