| | |
| --- | --- |
| London Midland Steam Miscellany No.6 (83-mins) | Price £19.75 |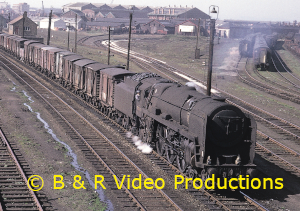 **RELEASED October 2018**
The sixth volume in our popular "Miscellany" series to cover London Midland steam compiled from mostly unseen footage and in the order the film runs off the original cine reels. Not only do we cover London Midland engines operating in their home region but also elsewhere.
In fact, we start with a few shots of them working on the Southern Region in 1965, before visiting the Gloucester and Bristol areas for a variety of steam action, including some rare footage of ex-MR dock tank No.41537 going about it's business, and then on to North Wales for scenes at Bangor, Menai Bridge and Bodfari.
Next we visit Rugby in January 1962 and amongst all the action, the unique Class 8 Pacific No.71000 "Duke of Gloucester" passes by. Two visits are then made to Staveley Ironworks to see the Victorian ex-MR 1F "half-cabs" at work followed by visits to Boroughbridge, Shap, Carlisle (including Canal Shed), Oxford, Hereford and Bletchley.
The "East Devon" rail tour is seen in 1965 on the Lyme Regis branch and near Exmouth, followed by the "Farewell to the Stratford-on-Avon and Midland Junction Railway" tour of April 1965, and a few months later by the "Northamptonshire Branches" brake van tour with 2-6-0 No.78028. Other tours covered in 1965 are the Warwickshire Railway Society's "Midlander" plus the SLS's "Midland Locomotive Requiem".
Travelling south once again, we visit the S&DJR at Shepton Mallet, Evercreech Junction and Templecombe. Then to Stonehouse (Bristol Road), the Nailsworth branch and Coaley Junction plus the west bank of the Severn Estuary including Aylburton, Bullo Pill, Lydney and Undy.
There is extensive coverage at Banbury with steam on passenger and freight workings including the short time when Britannias were allocated there. Super "D"s are seen in the West Midlands and other places such as Crewe, Wakefield, Wrexham, Chester and Birkenhead Woodside.
Finally we visit the North-West for steam action at locations such as Farrington Junction, Preston, Carnforth, Rose Grove, Bolton and Manchester.
The archive film is almost entirely in colour and was taken in the six years leading up the end of steam in 1968. Motive power includes ex-LMS Black 5s, 8Fs, 4Fs, 2-6-4Ts, ex-MR dock tanks, Jinties, Class 2 & 4 Ivatts, Duchesses, Jubilees, Royal Scots, Patriots, Super "D"s and BR standard Britannias, 72xxx, 73xxx, 75xxx, 84xxx and 9F 2-10-0s. An authentic sound track has been added along with an informative commentary to complement this nostalgic look at the last years of London Midland steam.
Cover photo:- Keith Pirt/Courtesy Book Law Publications:- Britannia 70014 "Iron Duke" at Carlisle Upperby, July 1967.
Click here to order this volume and other videos online
(By clicking here you are entering Wolverton Rail Videos web site with over 4000 transport videos & DVDs available
'Run by Enthusiasts for Enthusiasts since 1987′.
Please note you will be buying from Wolverton Rail and not B & R Video Productions)
This entry was posted in
London Midland Steam Miscellany Series
,
Miscellany Series (post Vol.190)
,
Volumes 214 to 221
and tagged
9F
,
archive
,
Black 5
,
Carlisle
,
Chester
,
Crewe
,
freight
,
Gloucester
,
Hereford
,
Keith Pirt
,
LMS
,
London
,
Midland
,
Preston
,
Shap
,
SLS
,
steam
,
Wales
. Bookmark the
permalink
.