| | |
| --- | --- |
| A Miscellany of Electric & Diesel Power No.4 (80-mins) | Price £19.75 |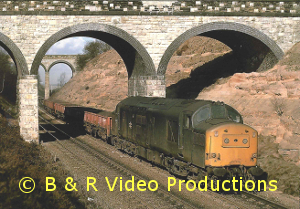 **RELEASED May 2018**
The fourth in our popular electric and diesel miscellany series. Although the "classic traction" seen in this series is "modern" compared to "steam traction" it should be remembered that much of the footage is 50 years or more older having been taken during the period from the 1960s to the 1980s. Most of the scenes selected have not been previously seen. As before with these films, we have simply compiled them in no particular order and thus a few surprises will be in store as you enjoy the video.
A vast area of the country is covered from HSTs and Class 50s in the West Country, to the Midlands at Wichnor sidings, Bescot and then across to Norwich, with numerous other locations in between including Cosford and the Madeley route.
We watch high speed operations on both the East Coast Main Line (ECML) and West Coast Main Line (WCML) before moving southwards to Stonehouse Junction on the Birmingham to Bristol main line for scenes including glimpses in the signal box and a Class 14 on the nearby Nailsworth branch (closed in 1966).
A couple of rail incidents are covered at Catholme Level Crossing and near Lichfield, followed by a visit to Derby Works during the 1968 Open day.
More action is seen on the Great Western Main Line at Reading, Taplow and Acton. In London, we visit King's Cross, St Pancras and Waterloo.
Northwards again for footage around Shrewsbury which includes a couple of Crewe test trains. The reopening of Barmouth Bridge is also touched on, plus a few scenes from around the long demolished Buxton Lime Works. Manchester Victoria is also visited.
Classes covered include Brush Type 4s in both two-tone green and corporate blueliveries, English Electric Type 4s, again in green and blue plus we cover their last days in service in 1984. Blue Pullmans are seen as well as their HST successors. AC Electrics are in in action as well as Deltics at King's Cross and at speed on the main line.
Passenger and freight trains pass by, including a number of car­carriers. We see Classes 03, 08, 14, 20, 31, 33, 35, 37, 40, 44, 45, 47, 50, 52, 55, 73, 74 and virtually all the AC electric types. A couple of steam shots are added for further interest. One or two DMU/EMU scenes are included and a finally a couple of shots include the rarely seen Brake Tenders.
The archive film is mostly in colour An authentic sound track has been added along with a commentary to complement this further nostalgic look at the last years of Great Western steam.
All the archive film is in colour and an informative commentary and authentic soundtrack has been added.
Cover photo:- Keith Pirt/Courtesy Book Law Publications:- An unidentified Class 37 near Langwith, March 1980.
Click here to order this volume and other videos online
(By clicking here you are entering Wolverton Rail Videos web site with over 4000 transport videos & DVDs available
'Run by Enthusiasts for Enthusiasts since 1987′.
Please note you will be buying from Wolverton Rail and not B & R Video Productions)