| | |
| --- | --- |
| Scottish Railways Remembered Part 5 – The Highlands (60-mins) | Price £19.75 |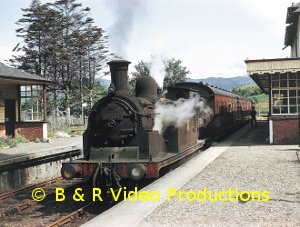 **RELEASED OCTOBER 2012**
This volume features the well known scenic Highland lines in Scotland and includes many views of steam up until 1967 as well as some diesels in the 1960s-1980s.
We open with a journey along the Highland main line, followed by railtour with a B1 along the Waverley Route to Hawick for scenes of a V2, A4s and Black 5s. At Gleneagles there are A4s on Glasgow to Aberdeen expresses followed by shed scenes at Polmadie including Britannias, Standard 5s, Standard 2-6-4Ts and a green Claydon!
At Dunblane, we see A4s on passing expresses, before visiting the Callender and Oban line for a scenic trip using both steam and Type 2 diesels. Travelling past Doune, we visit Callender for a variety of station steam scenes, before going onward to Balquhidder, Lochearnhead,  Killin Junction (with a view of the Killin branch train), Crianlarich Upper, Connel Ferry and Oban. There is much activity around the station, shed and harbour including Caley Tanks shunting the yards!
We return to Connel Ferry for rare footage of an Ivatt 2-6-0 hauled return trip along the Ballachullish branch travelling across the famous road-rail bridge and on to Creaghan, Appin, Kentallen and Ballachullish Ferry (for scenes of the ferry) before arriving at Ballachullish.
On the West Highland line, we visit Tyndrum, Crianlarich, Rannoch and the old Fort William harbour station in the days of steam with ex-LNER/LMS engines. Next, a visit to the Mallaig branch in the 1960s for steam and early diesels as well as the later 1980s steam specials featuring ex-NBR 0-6-0 "Maude" and Black 5s. There are scenes at Glenfinnan Viaduct, Arisaig and Mallaig where we also see a lot of ferry activity in the harbour.
Northwards to the Kyle of Lochalsh line, and views of the old Skye ferry in action at Kyle plus ships being loaded. Various station scenes include shunting with a Class 26 and service trains with Pullman observation coaches. We travel back along the line to Stromferry, Garve and Dingwall before visiting the Far North line with footage at Ivergordon, Golspie, Kildonan, Georgemas Junction and Thurso/Wick. We finish with scenes at Perth, Stonehaven and Glasgow Buchanan Street including Green A4s "Bittern" and "Sir Nigel Gresley".
All the archive film used is mainly in colour and an extensively researched commentary along with an authentic soundtrack has been added.
Click Here for Vol.154 – Scottish Railways Remembered Part  4
Click Here for Vol.132 – Scottish Railways Remembered Part 3
Click Here for Vol.74 – Scottish Railways Remembered Part 2
Click Here for Vol.63 – Scottish Railways Remembered Part 1
Also..
Click Here for Vol.102 – Scotland Revisited Part 1 – West Coast
Click Here for Vol.114 – Scotland Revisited Part 2 – East Coast
Click here to order this Volume 172 and other videos online
(By clicking here you are entering Wolverton Rail Videos web site with over 4000 transport videos & DVDs available
'Run by Enthusiasts for Enthusiasts since 1987′.
Please note you will be buying from Wolverton Rail and not B & R Video Productions)