| | |
| --- | --- |
| Cambrian Landcruise Part 1 (60-mins) | Price £19.75 |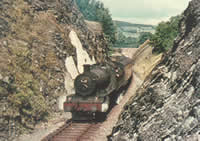 Barmouth-Talerddig-Shrewsbury.
A nostalgic look at the railway between BARMOUTH and SHREWSBURY via DOVEY JUNCTION in the 1960's.
Virtually every station and halt along the route are seen and the scenic grandeur of this route is followed along the Cambrian Coast with steam trains attacking the climbs of FRIOG and TALERDDIG.The Talerddig climb is particularly impressive with Manors, Standards and Ivatt Moguls doing battle with the 1-in-52 gradient in all conditions of weather from sunshine to snow. A Standard stalls and gives an impressive display re-starting and damaging the track.The delightful Severn Valley from MOAT LANE through NEWTOWN and WELSHPOOL to SHREWSBURY where semaphore signalling abounds.
Motive power seen is Manors, both clean and filthy, Standard tender and tank classes and Ivatt Class 2 Moguls.
Brief visits are made to the FAIRBOURNE, TAL-Y-LLYN and WELSHPOOL and LLANFAIR RAILWAYS in the 1960's.
Click Here for Vol.109 – Cambrian Landcruise Part 2
Click here to order this and other videos online
(By clicking here you are entering Wolverton Rail Videos web site with over 4000 transport videos & DVDs available
'Run by Enthusiasts for Enthusiasts since 1987′.
Please note you will be buying from Wolverton Rail and not B & R Video Productions)