| | |
| --- | --- |
| Steam Still At Work (after August 1968) Part 1 (60-mins) | Price £19.75 |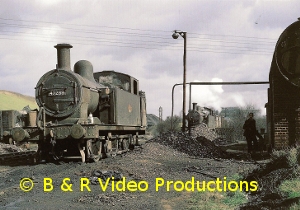 Our "Steam Still at Work" series of films (formerly called "Return to Steam") features the steam scene during the "Wilderness Years" when main line steam was officially banned from British Railways after the end of steam in 1968. The ban ended with the "Return to Steam" tours in 1971. Here we follow how a typical enthusiast could find steam again, mainly in Great Britain.
It's 11th August 1968 and we see 70013 "Oliver Cromwell" with that last BR steam hauled train on the Settle & Carlisle, followed by the last leg into Liverpool with 45110. Later the Pacific is seen running light engine to Norwich. Earlier in 1968, 9F 92203 is seen en route to Longmoor for preservation along with 75029, the first steam on the Southern since July 1967. At Barry scrapyard there are rows of mostly now preserved steam. But at Cashmores none survived and at Cohen's Yard, Kettering, the scrap man is busy….
However hundreds of engines could still be seen at work on industrial sites. We feature many scenes including unique Beyer-Garratt "William Francis" and 0-6-0STs fly-shunting at Hadley Colliery. We even see ex-BR tank engines such as 3F 47745 at Williamthorpe Colliery and ex-GWR Panniers both at South Wales collieries and in daily use on London Transport. We visit Northern Ireland to see "Jeep" 2-6-4Ts on passenger and motorway construction trains.
Overseas also became a popular destination, especially when as close as Calais and Boulogne where Pacifics still hauled trains including the GOLDEN ARROW. There were years of steam traction left in Germany and most of Europe; even behind the Iron Curtain for the adventurous few. Further away was South Africa for main line double headers and Garratts! /p>
Back in the UK, a few preserved railways had started up and there is rare footage of the early days on the Bluebell, Keighley, Middleton, Severn Valley and Dart Valley railways. Over on the Lochty Private Railway, we see 60009 and a matching beaver-tail observation coach! We tour the various narrow gauge and miniature lines with a variety of scenes including a BR blue Vale-of-Rheidol, the Talyllyn with "Dolgoch" and the Ffestiniog with "Prince" hauling trains.
On the mainlines, 4472 still had a further year and occasionally other preserved engines strayed on to BR tracks if you knew about it. Our series is an in depth look at all of this. Part 1 is only an introduction to memories of steam from over 40 years ago. We close with a "Return to Steam" special in October 1971 with 6000 "King George V" hauling the Bulmers Pullman train , 4472 at Kings Cross and, for contrast, 45110 hauling last BR steam train on 11th.August 1968.
All the archive film used is in colour and an extensively researched commentary and authentic soundtrack has been added.
Cover Photo:- 3F 0-6-0T No.47239 at Williamthorpe Colliery, May 1969.
Click here to order this and other videos online
(By clicking here you are entering Wolverton Rail Videos web site with over 4000 transport videos & DVDs available
'Run by Enthusiasts for Enthusiasts since 1987′.
Please note you will be buying from Wolverton Rail and not B & R Video Productions)