| | |
| --- | --- |
| Along GWR Lines Part 1: Paddington to Oxford (60-mins) | Price £19.75 |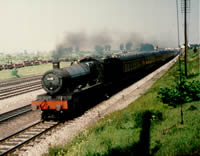 A look at the popularity of the Great Western Railway, the longest serving company of British railways. Alter a brief resume of what was best in the GWR, we begin our journey from Paddington, where else? Kings, Castles and pannier tanks come and go from Brunel's terminus and at Westbourne Park. At Old Oak we follow Castles and Grange classes to HighWycombe before resuming our journey west to Reading via Southall in its last days of steam. From this event, the Great Western Society emerged with their open days at Taplow. The early 1960′s provided steam on the Marlow branch and Reading General was a veritable paradise for Castles and chocolate and cream. Visit Reading shed to see engines that worked out over Goring water troughs; three minutes of water splash. Pity the Southern engines that had no scoops! The next port of call is Didcot when it played host to Castles, Halls, Panniers and 28xx Class, and a pre-preservation shed visit. Oxford was the place to be for steam in the early 1960′s. Southern engines handed over to Western here. Finally another look at Didcot in 1965 and a preview of later volumes with steam at Pilning, Dawlish and Penzance.
Click Here for Vol.78 – Along GWR Lines Part 2 – Oxford to Cardiff
Click Here for Vol.89 – Along GWR Lines Part 3 – Cardiff to Penzance
Click Here for Vol.171 – Along GWR Lines Part 4 – South Wales
Click here to order this Volume 70 and other videos online
(By clicking here you are entering Wolverton Rail Videos web site with over 4000 transport videos & DVDs available
'Run by Enthusiasts for Enthusiasts since 1987′.
Please note you will be buying from Wolverton Rail and not B & R Video Productions)