| | |
| --- | --- |
| Archive Newsreel 3 (60-mins) | Price £15 |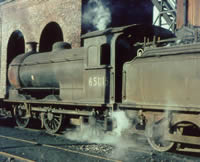 With full electrification on the Southern main line to Weymouth now operating we return to Dorchester to witness the operation of steam trains reversing up workings at the ex-LSWR terminus. Southampton and Eastleigh in 1967 and steam's last fling in the London suburbs on the LCGB 100th. railtour to Windsor and Reading using 77xxx, 76xxx, 80xxx and West Country complete this section.
Tribute to a King. We profile 6000 "King George V" in its preservation life from 1970 to 1987 covering its travels to Paddington, Didcot, Swindon, Gloucester and the North-to-West route to Chester. The trip for Swindon Borough in 1974 with unique smokebox side-plates is featured. Hard workings steam in the North-East of England in 1966/67 where ex-NER type Q6 and J27 locomotives worked to the last around the collieries of Tyne and Wear. The last Tyne Dock to Consett working with 92063 is seen complete with headboard. K1, WD 2-8-0, Q6 and J27 workings at Pelaw, Ryehope and Seaton Bank make this selection relive the days of steam as they really were. So popular was this section of the video with our customers that Volume 18 was devoted to this area for even morepower to the pit.
Steam returned to the North Wales coast in the late `80s but we visit it in 1966 with an LCGB railtour along the coast and up the Conway Valley to Blaeneau Ffestiniog and Denbigh with Britannia, Crab and ex-LMS 2-6-4Ts. Soak up the steam atmosphere with LNWR signalling at Chester. We still had 3-minutes left to give a full hour so we inserted the industrial scene at Maerdy Colliery in 1970 when ex-GWR pannier tank 9792 breathed its last in the summer sunshine. To say it was in full steam would be an understatement!
Click Here for Vol.14 – Archive Newsreel 1
Click Here for Vol.15 – Archive Newsreel 2
Click here to order this and other videos online
(By clicking here you are entering Wolverton Rail Videos web site with over 4000 transport videos & DVDs available
'Run by Enthusiasts for Enthusiasts since 1987′.
Please note you will be buying from Wolverton Rail and not B & R Video Productions)