| | |
| --- | --- |
| Locomotives of War (80-mins) | Price £19.75 |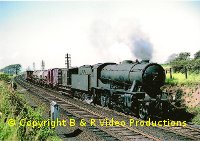 The railways of Europe and the Far East played a vital role in periods of war. In the 20th.Century there were two World Wars and this production portrays most of the locomotive types that were built for service in both conflicts, primarily for the Allies.We include the ROD types from WW1 such as ex-GCR 2-8-0s and Eastern 0-6-0s. During WW2, the War Department initially adopted the LMS Stanier 8F 2-8-0 for standard heavy freight. We show this type in service both at home and the Middle East. Later in WW2, the design was simplified into the WD "Austerity" 2-8-0s and extended with the 2-10-0s. Serving alongside were the Hunslet designed WD "J94" type 0-6-0 Saddle Tanks. We feature examples of all of these locomotives.
The Americans built 2-8-0, 2-8-2 tender engines and 0-6-0 tanks. Army training camps such as Longmoor were used to train staff in railway work We also show examples of narrow gauge engines that served in WW1.
All of these types were designed for a short life, but some still survive today. They can be seen at work on preserved railways, especially for the WW2 re-enactment events. These are illustrated on the Churnet Valley Railway, Keighley & Worth Valley Railway, Severn Valley Railway and the East Lancashire Railway.
Most locomotives shown are British built and we see some of them at work in Turkey, France, Poland, India and Australia.
Cover Photo:- Keith Pirt/Courtesy Booklaw Publications. WD Austerity 90266 near Morecambe South Jct, 1962.
Click here to order this and other videos online
(By clicking here you are entering Wolverton Rail Videos web site with over 4000 transport videos & DVDs available
'Run by Enthusiasts for Enthusiasts since 1987′.
Please note you will be buying from Wolverton Rail and not B & R Video Productions)