| | |
| --- | --- |
| Wirral Steam (60-mins) | Price £19.75 |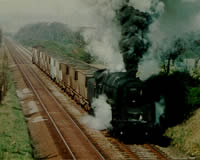 An in depth look at the steam scene on the Wirral peninsular from Chester to Birkenhead, Bidston to Shotton. Fifteen cameramen supplied material for this video, notably John Ryan, a local enthusiast from Bromborough. From Chester we take the LMS and GWR Joint line to Hooton calling at Upton, Mollington and Capenhurst. Here the line was joined from the east at Mouldsworth via Ellesmere Port where a visit is made to the Manchester Ship Canal Railway. Returning to Hooton, we go north to Birkenhead calling at all stations. Birkenhead provides nostalgic views of Woodside station, the ferries to Liverpool and a glorious sight of the liner "Empress of Canada" docking there. A prolonged visit to Birkenhead Shed precludes a visit to the Docks lines with mogul 42942 and early 1970′s tours with industrial steam engines. Coverage is then given to the Bidston to Shotton ore trains seen everywhere along the route from the Docks to Shotwick Sidings with 9F power right into the steelworks. At Bidston we divert to New Brighton worked by ex-GWR pannier 4683. Motive power to be seen include 2-6-4 tanks, Black 5′s', 9F's, Standard 4′s, Crabs and visits by B1, A2 and a Castle on the last day of steam services from Paddington to Birkenhead. A film full of atmosphere and nostalgia for anyone who knew the railways of the Wirral or not.
Click here to order this and other videos online
(By clicking here you are entering Wolverton Rail Videos web site with over 4000 transport videos & DVDs available
'Run by Enthusiasts for Enthusiasts since 1987′.
Please note you will be buying from Wolverton Rail and not B & R Video Productions)