| | |
| --- | --- |
| Southern Steam Finale Part 1 (60-mins) | Price £19.75 |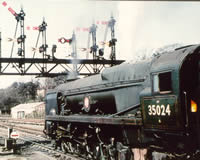 This is the first video of a series portraying the definitive history of the last eighteen months of Steam Traction on the Southern Region. The series will cover events in depth as although it was a sad time, there were many exciting events taking place. Many of these have been told in print before but our cameramen were there to film then and a few events never seen before on video.
This first volume covers the first ten weeks of 1966 and 15 different classes are seen in action from the Southern main line to the Somerset and Dorset Joint Railway, the S15 tour with 30837 snow and all to Bordon, the Maunsell mogul to Gosport, Cowes line finale and normal service trains between Waterloo and Weymouth.
Each volume in this series will stand on its own as a video but we hope you will want the full set as the years go by.
Filmed in colour from snow to sunshine by nine cameramen with a few nice glint views, and superbly sound tracked from original recordings. There is no modern day footage used at all, pure archive.
Cover photo: Jim Oatway. "East Asiatic Co." at Southampton Central
Click Here for the "Southern Steam Finale" DVD Series
Click here to order this and other videos online
(By clicking here you are entering Wolverton Rail Videos web site with over 4000 transport videos & DVDs available
'Run by Enthusiasts for Enthusiasts since 1987′.
Please note you will be buying from Wolverton Rail and not B & R Video Productions)